Brett's March Portfolio Update
Plus some thoughts on volatile stocks...
*This newsletter is free, but if you want to support it, our podcast, or website, upgrade to the paid version for $5 a month here:
**If tables/charts are not showing up, click on the link to read the web version.
Brett here.
This week we covered Square on the podcast. If you look at my allocation below, you can tell I'm a big fan of the company. But man, has the stock traded violently the past few months.
On January 1st Square traded at $62 a share. By the middle of February, it was up to $86. Mid-march: $35.50. And today it sits at $53.34. It would be almost impossible to hold this thing if I only had a one or even three-year time horizon. But since my plan is to (most of the time) buy quality businesses at a reasonable valuation and hold them forever, the short-term price movement does not scare me.
Sure, I pay attention to where the stock trades in case I want to buy more shares, but that is not where most of my attention lies. What I spend time doing is reading up on what is going on with the underlying business, which is separate from the stock. For example, this week Square had a conference call and released a 50-page investor deck. I spent about an hour this week going through both of those and probably wasted five minutes looking at the share price.
This extreme volatility is happening to a ton of tickers. The VIX is at one of its highest recorded levels, and the macro-news just keeps pouring in with everyone bored in their apartment. If you're feeling skittish about any of the businesses you own just remember: if you're in it for the long-haul, 99% of the news has no bearing on what the stock will be worth in 2030. Even if it trades like it.
Alright, now to the returns.
Individual Account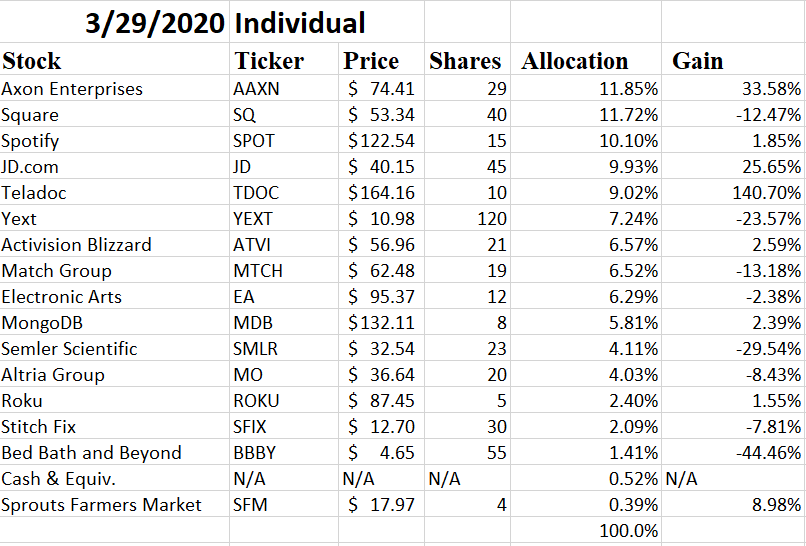 Thank god for Teladoc.
Trades Made (in chronological order):
Bought one share of Semler Scientific for $46.20

Bought ten shares of Altria Group for $41.13

Bought three shares of Activision Blizzard at $58.99

Bought two shares of EA at $100.51

Bought two shares of Roku at $95.87

Sold all my Disney at $97

Bought two shares of Roku at $83.53

Bought two shares of Axon Enterprises at $53.62

Bought two shares of Square at $53.26

Bought one share of Spotify at $123.63

Bought two shares of Semler Scientific at $39.96

Bought ten shares of Bed, Bath, and Beyond at $6.85

Bought two shares of Square at $47.23

Bought one share of Roku at $71.78

Bought fifteen shares of Bed, Bath, and Beyond at $6.05

Bought ten shares of Stitch Fix at $13.82

Bought twenty shares of Stitch Fix at $13.75

Bought five shares of Semler Scientific at $34.00
Another busy month. I sold all of my Disney for two simple reasons. First, because they have an absurd amount of exposure to things shut-down by a nationwide quarantine (which we will have eventually). This is likely why the company raised $6 billion in debt. Secondly, I sold my shares because I realized Bog Iger was grossly overpaid and left the company at a huge turning point with an existential threat (the coronavirus) looming. Talk about "lucky" timing.
New additions to the portfolio include Roku and Stitch Fix. They both have seen 25%+ drawdowns which is why I decided to start a position in both. If the executive teams can execute the long-term vision I believe both are trading at undervalued levels.
Portfolio Statistics
Average Consensus P/E: 36.7

Average Consensus EPS growth: 8.2%

Average Consensus Rev. Growth: 17.56%

Portfolio Diversity: 66.3% Tech, 11.77% Industrials, 9.1% Healthcare, 4.44% Consumer Non-Cyclical, 4.14% uncategorized, 3.82% Consumer Cyclicals, 0.53% Cash
Returns since January 27th, 2020 (when I connected to Atom Finance):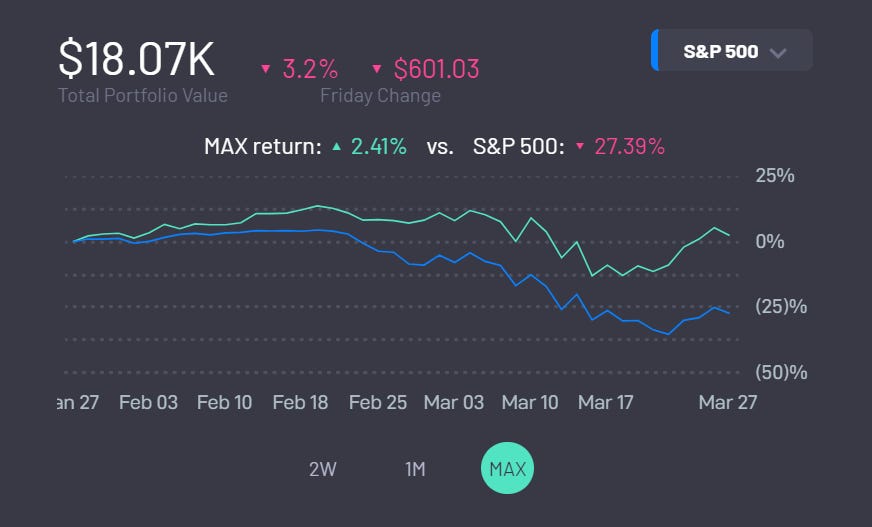 This is for my individual account only. The returns below also include my Roth IRA. Seriously though, check out Atom Finance. It is awesome and free.
Stocks on My Watchlist
StoneCo

Sea Limited Co.

Telaria

The Trade Desk
These are companies I would love to own if they got a 30-50% haircut. Fingers crossed that will be soon.
Roth IRA

Trades Made:
Portfolio Performance Since January 2017

*These are time-weighted returns to adjust for withdrawals, deposits, and timing.
Nothing much to report this month except that my small-cap ETF in my Roth IRA is getting crushed. However, I plan to hold this for at least 50 years so I see no reason to panic. In fact, I hope it stays at these low levels so I can add more.
Alright, that's it for my March 2020 portfolio update. Make sure to follow us on twitter @chitchatmoney, subscribe to this newsletter if you haven't already, and check out our podcast here for more of our content (and analysis on a lot of the above companies).
See you in a month,
Brett Schafer
*I am not a financial advisor. Nothing I write is advice or a recommendation.